Hello.
I would like to add new custom menu in (some) window with "create window with transfer" option, and target to window "Report Archive" using RESULT_KEY as parameter.
I don't find this LU in Action Parameters, destinantion window when configuring custom menu.
I try find LU "Print Queue" (as another options) also not found.
Is it possible to jump into one of these windows with a parameter at all?
Best answer by dsj 20 November 2020, 08:28
Hi @SUPAPLEX ,
Report Archive and Print Queue are called 'Feature' windows as other normal IFS windows are called Application forms (APF). You can check the window type by checking the address bar in IFS EE.
Features starts with ifswin: protocol and application forms starts with ifsapf:
Custom menu types Create window and Create window with transfer works only for APF forms.
Alternate method to open report archive from a custom menu to use the type URL.
´
Following is an example URL how you can open report archive where NOTE_TEXT is a source column.
ifswin:Ifs.Application.InfoServices.ReportArchive?action=get&key1=&NOTE_TEXT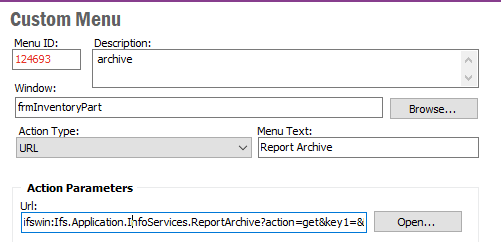 Hope it helps!
Damith
View original