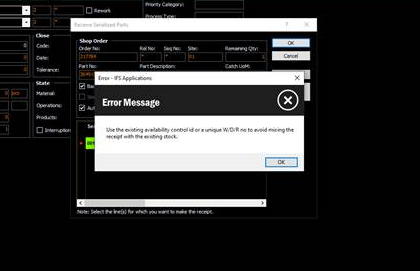 Hello everyone, (Sorry for poor quality img)
I´ve run into some issues concering the receiving of serialized parts in the component repair order (CRO) flow. The problem has started to become more frequent and I would like to find the root cause of this issue.
Summary of problem: The repair technician wants to close the repair shop order. First, the time of the operation is reported then the reception of the parts should be done.
The problem is that an error message appears which signals that we should use the same availability control ID or W/D/R number in the existing stock.
We don´t assign different W/D/R numbers currently, and Control ID's are not common practice in that area of operations. Therefore, the issue is interesting to say the least.
Our setup:
We are currently not tracing finished/semi-finished products. Although, the products that are received through the CRO - process has a serial number.
Current workaround is to change the Control ID in the "Receive Parameter", which enables us to close everything. This solution does not feel viable in the long term. Whereas it should not be necessary to do so to begin with.
Have any of you encountered similar problems?
Best Regards