Like many of us, I spend a bit of time at the end of the year reflecting on all that we've been able to accomplish. 2021 has been a year not without challenges - for many of us both professionally and personally. I hope that you've all had a year of good health with personal and professional accomplishments.
The community has continued to grow this year, due to your steadfast contributions and company. This year we had: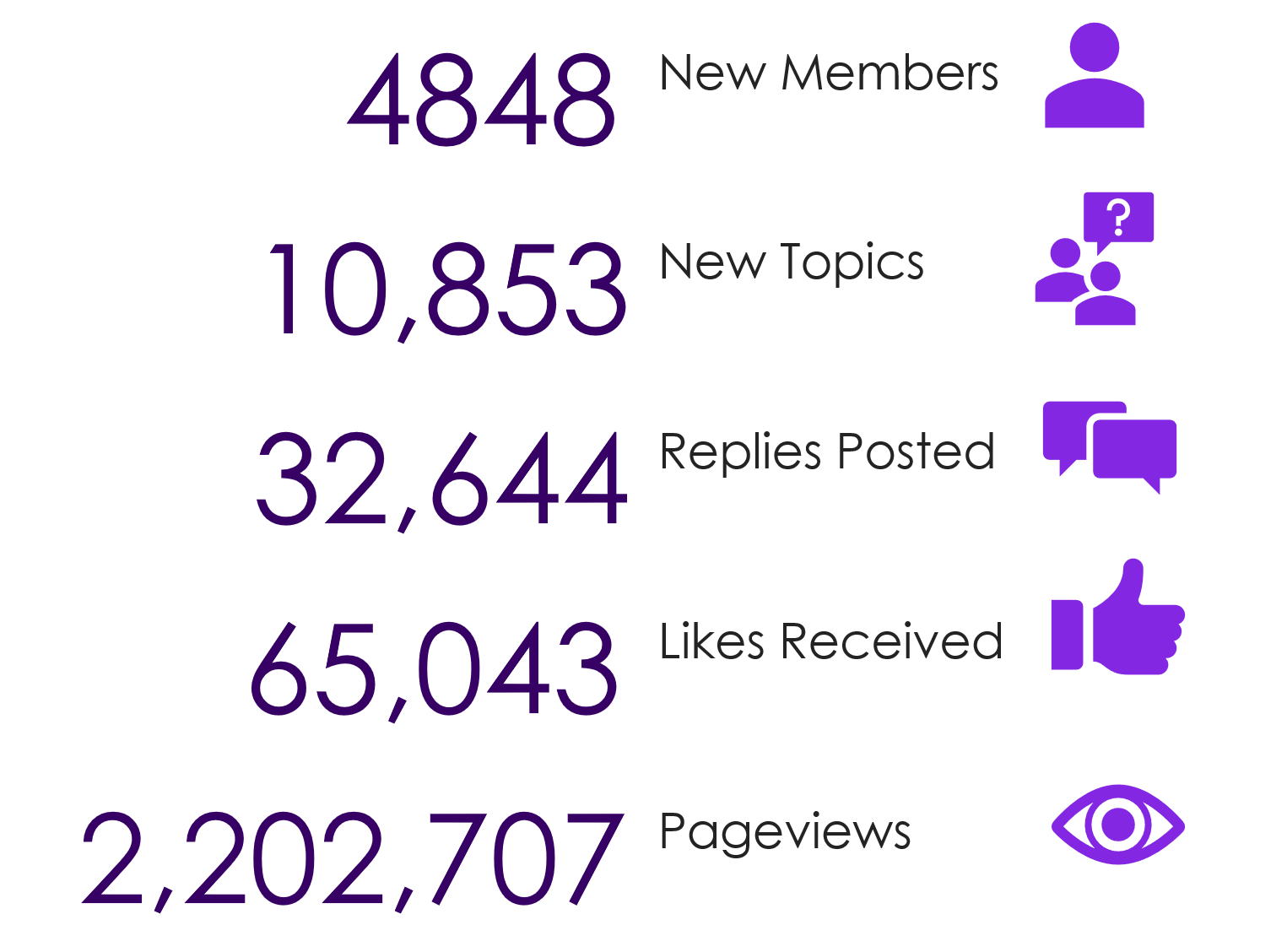 All these metrics represent individuals; people who have contributed - asking, reading, responding, and collaborating. We'd like to recognize a few of these people, as our: 
Best All Around: @Yasas Kasthuriarachchi was our top contributor for 2021! He has the most new topics (238), most replies (712), most likes received (1498), and most likes given (2552). 
Most Likely to Respond: Our Advanced Competence Hub team led this one with #1 @Yasas Kasthuriarachchi at 712 and #3 @Lee Pinchbeck at 559.  @Mathias Dahl was #2 with 564 replies posted this year.
@ShawnBerk and @Asela Munasinghe weren't far behind with 462 and 448 replies respectively, and last year's winner, @anmise held his own with 407.
Most Liked: @Yasas Kasthuriarachchi received 1498 likes, @Xavier Fernando received 869, and @Charith Epitawatta received 866.
Most Likely to Like: @Yasas Kasthuriarachchi likes to like, giving out 2552 this year. @Asela Munasinghe was next with 1660, and @Xavier Fernando with 1196.
Most Likely to Answer Your Question: @Lee Pinchbeck takes this one with 151 answers! 
@Charith Epitawatta comes in second with 131, and @ShawnBerk and @Yasas Kasthuriarachchi  tie for 3rd with 79 each. @Mathias Dahl isn't far behind with 63 and @Björn Hultgren with 61.
Rising Stars: We had 3 users who joined the community and became superheroes within their 1st year of membership - @Atheeq Maharoof , @Phil Seifert , and @Asela Munasinghe . Thank you for hitting the ground running! 
Heroes: We have 270 users with hero status at the end of this year! By comparison, last year we had 63. While I'm not listing you all out here, but your contributions are not unnoticed. Thank you!
Superheroes: At the end of 2020, we had only 8 superheroes - @durette , @dsj , @johnw66 , @Yasas Kasthuriarachchi , @anmise , @Rusiru Dharmadasa , @Lee Pinchbeck , and @paul harland . 
This year we've added 34 more! 
 @Phil Lamerton , @ShawnBerk  , @Asela Munasinghe , @william.klotz , @ThushAsanka , @Charith Epitawatta , @Xavier Fernando , @Srikanth , @Dumeesha Wanigarathna , @Kasun Balasooriya , @Vimukthi Mahakumbura , @Sajith D , @NickPorter , @dhlelk , @Shehan Almeida , @Minoshini Fonseka , @MadushaDissanayake , @Sajith Anushan , @Anushka Bandara , @Saranga Amaraweera , @Susith Setunga , @Kalpani Dissanayake , @Himasha Kapugeekiyanage , @Thilini Kumarasinghe , @Isuru Wijeratna , @Tharindu Illangasinghe , @Manoj Ruwanhewa , @CallumW , @Imal Thiunuwan , @Janitha Jinarajadasa , @Phil Seifert , @Rasika Lakmal , @Thanushi Jayaweera , @Ragaventhan Sathananda , @Atheeq Maharoof , @Imal Thiunuwan 
Ultimate Hero: Our resident FSM subject matter expert @Lee Pinchbeck became our 1st Ultimate Hero this year, with 988 posts and 906 replies. He's also had 251 of his replies marked as a best answer! 
There are so many notable activities that happened this year, but I'll recognize a few: 
Launched and hosted IFS Success Sessions

Thank you @MMORSE , @ADMCUK , @aussdk , @Fredrik Sagesand , @Anders Blom , @Chamaka Wimalarathne , @tibsltd , @afridimeedin , @chobus , @Lee Sarginson , @LakmaliRD , @Minoshini Fonseka , and @Alex Read for presenting.

Opened Ideation in the Community
Released IFS Cloud
Added 850 New Knowledgebase Articles
Thank you all for continued support for and use of the IFS Community!
Our plans for this year are to continue to add value to this site and make it an integral part of experience with IFS. We look forward to working with you on this journey!