Hi,
We experience an issue when we try to complete a project. We want to complete a project for 100%.
When I run the 'Generate Unfinished Work Activity Items' event in the Project Deliverables Navigator, I get the following result:

I cannot set the status of the project to Completed because there are some supplier invoices which we have not received. So when I try to complete the project in the finance module, I cannot complete it for 100% because the status of the project is not Completed (and this is blocked by the supplier invoices which we have not received yet). The screenshot below shows the error in the finance module.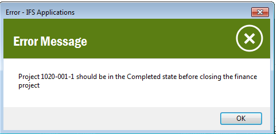 Is there a way to work around this issue? We want to complete the project for 100% and we do not want to wait on our suppliers for sending the invoices.
We are on APPS10 Update 7.
Best answer by MR10 11 January 2021, 14:26
Hi, 
Hate to say it but… it is in UPD8
This is in the release notes of the UPD8.
IFS : 280105
Partners : 280105
CEC : 280105I
SC : 280105
Project-Based -Project Accruals
Provide the ability to manage accruals at project level, for the source data from sub contracts, and miscellaneous accruals. Facilitate operational and financial accrual assessments, generate accrual transactions and automatically reverse them in the subsequent financial period. This enhancement is available in IFS Aurena.
This allows you to manage an accrual for potential invoices to come and close the project.
Otherwise it will be hard to trick the system otherwise, other then putting in 0.00 invoices for the open items and manage an accrual separate.
View original