Hi Community,
We have a Aurena customer facing below issue when trying to view My Time Registration window but a message saying "Could not load metadata for TimeRegistrationEmployee" appears.
Here is the problem summary: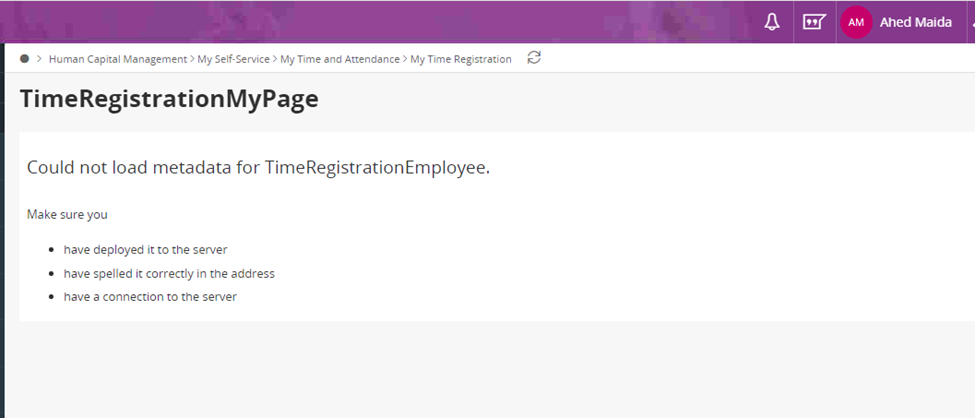 Re-creatable only in Test and re-creatable in pre-prod as informed by the customer. Managed to re-create for both My Time Registration and Time Registration.
There are two user who is facing the issue and the other is viewing it without any issue.
Current findings summary:
* No issues appeared to be there with data related to Time Registration in "fnd_model_design_data_tab"
* No issues appear to be existing in dba_context view 
* Page Configurations: Unpublished and re-published page configurations relating to time registration. Caches / Meta caches refreshed. Didn't resolve the issue.
* Disabled base profile and person profile and cache refreshed. Still not resolved.
* No issues with permission sets. Even after setting up identical permission sets for both of the users, the issue still exists for that mentioned user.
*Refreshed the browser caches and done the private browsing but issue is still there.  
*Checked the customizations whether there are any delivery issues recently, but no any change.
Are there any other probable situations or solution for this kind of issues? 
Kindly advice me to handle this problem, and really appreciate your support on this.
Thank you !! 😊
Best Regards,
Nipuni