Hi all,
I am seeing an error message when using an Event Action to generate an Application Message output in IFS 10.
When I try to carry out the action that triggers the event (i.e. changing the status of a Shop Order), I get the error shown below ("Element denoted by path [$EVENT_RECORD$] not found"). If I disable the Event Action, I can change the Shop Order successfully. Any ideas?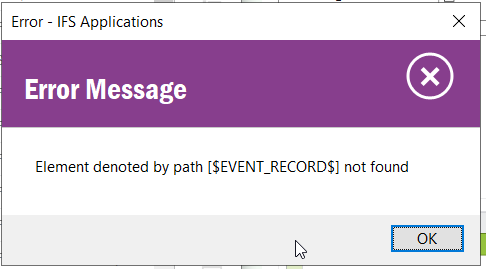 The Event process is set up as follows:
1. Create an Event with ID SHOP_ORDER_STATUS_CHANGE:
2. Create Event Action of type Application Message:
3. Create a Routing Rule linked to SHOP_ORDER_STATUS_CHANGE:
Am I missing anything?
Many thanks,
Ged.