Hi folks,
An error message is being encountered when saving a mixed payment to process a 'Cash transfer' from one Currency account to another Currency account e.g. EUR to USD account.
Accounting currency is GBP and It will allow to transfer EUR to GBP account or USD to GBP Account but not EUR to USD.
Message states 'Currency EUR is not allowed for cash account CURRENTUSD in company HEATH'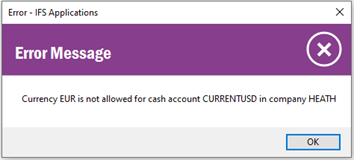 Could you please advice on this?
Best Regards,
Thakshila
Best answer by Shehan Almeida 18 August 2021, 19:32
View original