Hello. 
We set up the project below, with only 1 activity, where planned revenue is 100K and planned cost is 70K so that planned margin is 30%. Actual cost is 85K all of which was booked in one period. We set the financial project to a Project Type of Capitalize Rev/Exp and Revenue Recognition Method of POC Revenue First.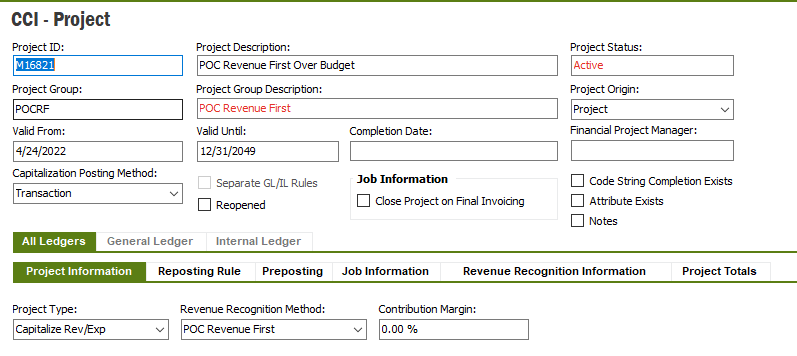 When we run revenue recognition, it recognizes revenue of 100K and cost of only 70K even if actual cost is 85K. In this overbudget scenario, we would like to recognize revenue of 100K (ie. the planned revenue) and cost of 85K (ie. the actual revenue). 

However, in an underbudget scenario (let's assume planned revenue is 100K, planned cost is 70K and actual cost is 65K), we would like the cost recognized to be 65K (ie. actual cost) and revenue recognized to be 92,857.14 (ie. the revenue needed so that the planned margin of 30% is achieved).
I would appreciate any thoughts on how we could achieve this. The IFS version we are using is Apps 9 U13. Is there a particular setup for the project that we should be using instead of the one we have now to be able to achieve the aforementioned results we are hoping for? Or perhaps, basic setups plus additional scripting?  Any ideas and suggestions would be much appreciated.  Thank you.