Hi,
First time posting to this community… Please be kind
We are implementing IFS apps 10.  We haven't gone live yet. 
We are using IFS Aurena Scan It 10 (version 10.10.1336.0 ) on an Android handheld.
We upgraded our middleware and DB from release 007 to 009 on Monday, and since then we have seen this error on the device when we attempt to run a WADACO transport task...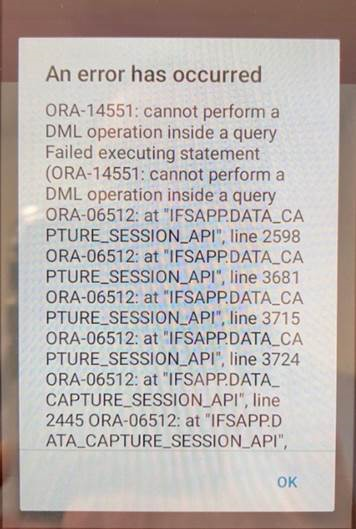 As far as I'm aware, releases 008 & 009 did not contain any TAS upgrade.
ProDBA did the upgrade on the middleware and database for us.
Do we need to do anything on the TAS after an upgrade?
If anyone could help that would be great.  We logged it with IFS but they haven't resolved it yet.
If anyone has any suggestions I would be most grateful.
Thanks,
Toby