Dear All,
I was working on the "Receive_shop_order" configuration.
My item lines are in following order:
Handling Unit ID
Order No
Release No
Sequence No
Part No
Eng_Chg_Level
Serial No
Lot_Batch_No
Under 'Lot_Batch_No' I used these parameters:
Use Fixed Value = When applicable
Use automatic value = Default
Default Value = *
Fixed Value = *

Running the program, I need to input the Handling unit ID and the program automatically fetches all information and stops on the Lot/Batch no with a default value * proposed. So far so good.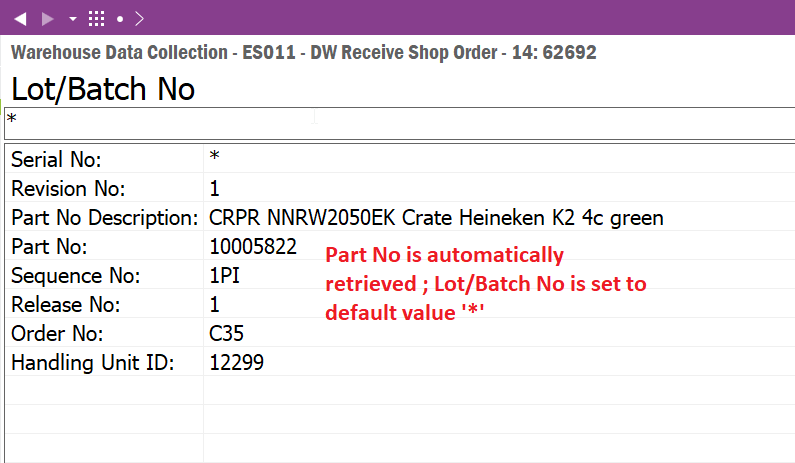 Now I always want the Lot_Batch No to be = *, and not present this to the user. So I changed the settings to;
Use Fixed Value = Always
Use Automatic value = Off
Default Value = NULL
Fixed Value = *

However, when I run the program again, it will stop on 'Part_NO'. It seems the application no longer finds the connection to the part number - somthing that worked perfectly in the first attempt. I find this strange because the lot_Batch_No is only entered on line 8, the part number on line 5. SO in my first attempt - the right part no was automatically retrieved although I did not yet confirm the Lot Batch NO = * ; but setting the lot_batch_no fixed to the value * makes me lose that connection.
Can anyone please explain what is going on?
How can I set the Lot_batch_no fixed to * and not lose the connection to 'Part_No'?
Best Regards
Roel