Hi,
We are in the process of upgrading from Apps 7.5 to 10 and all the standard reports in Apps 10 are displaying the Standard IFS BW logo, post upgrade:
How can we replace IFS logo with our custom logo?
I uderstand this logo file IFSlogbw.gif is under D:\IFS\<instance>\repository\server\reports\stdlogo folder.
We tried replacing but the new logo isn't getting picked up, which may be due to the fact that the logo file resides in a database table - report_logos_tab
Question - Do we need to replace the IFSlogbw.gif file with our custom logo and perform a reconfiguration to deploy the new file into the DB?
Is this the right approach?
Note: We dont have access to Report Designer and only looking for the custom logo to show up in Operational Reports instead of IFS logo.
TIA!
Best answer by Minoshini Fonseka 23 July 2021, 07:36
@Srikanth ,

Please follow these steps.
Login to IFS Aurena client as IFSAPP (or admin user)
Go to Solution Manager \ Operational Reporting \ Report Images
Select the LOGOS tab as you are adding a logo
Import the new logo and set its name as complogo.gif (assuming you had this name before in your images path)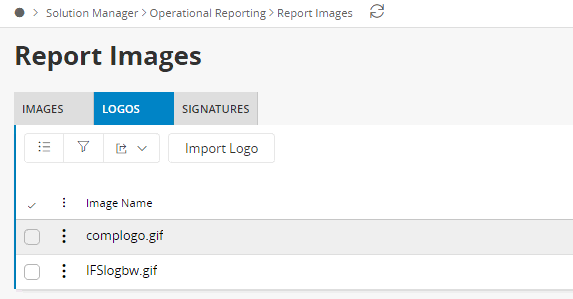 As per the standard, it is designed to override IFSlogbw.gif with any image having the name complogo.gif. You can use other tabs (Images, Signatures) to store other types of images used in your report layouts.
View original