Maintaining the highest level of cyber security is each and every one of our responsibilities to protect the data, assets and reputation of both IFS and our valued customers. To increase security level of customer accounts, following password polices will apply to IFS customer accounts
Customer account passwords are expired every 180 days
Passwords must be changed according to instructions give under "Guideline to changing the password of an IFS account" below

Once the password successfully changed, it will be valid for 180 days

Your account will be locked out for one hour if you enter invalid password 3 times

Automated e-mails will be sent through IFS Customer Communication <IFSCustomerCommunication@ifs.com

> mail box 7 days and 1 day prior to your password expiry. This is legitimate e-mail which we will notify our customers proactively. This mail box will not be monitored by anyone. So, please do not reply to automated e-mail
Guideline to changing the password of an IFS account
Your password at IFS domain will expire every 180 days. Follow the instructions below to change the password
Go to https://www.ifs.com
Locate Customer Portal option under menu Customer Experience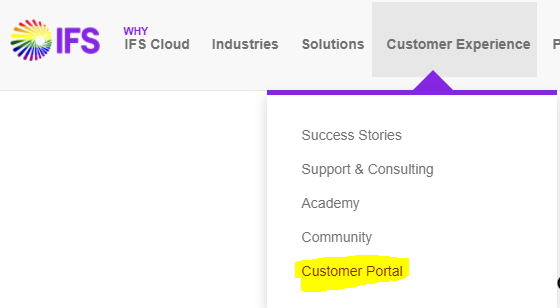 Then scroll down to "Need help?" section and click "Forgot your password" option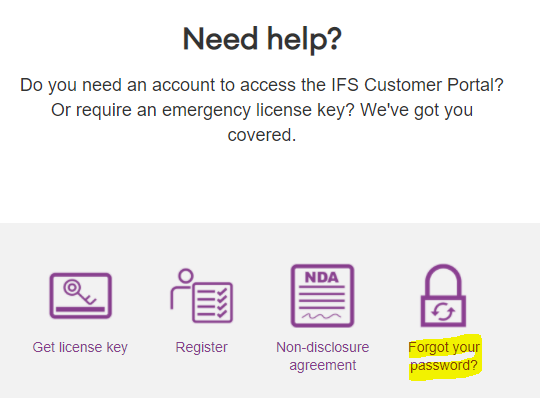 Enter your username with IFS in the "Username:" section and hit Submit button
DO NOT enter e-mail as the username. Enter your IFS corpnet domain account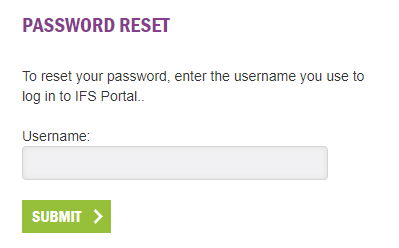 Next page, check "I'm not a robot" checkbox and press Confirm bottom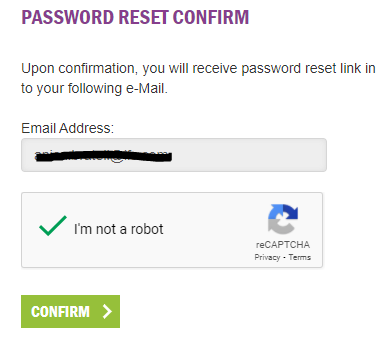 You will receive an automated e-mail with a link to change the password. Please open the link in a webpage and change the password as instructed.
Below is an example e-mail with a link which you will receive to change the password. The link in this e-mail is valid one hour. You need to change the password using this link before it expires.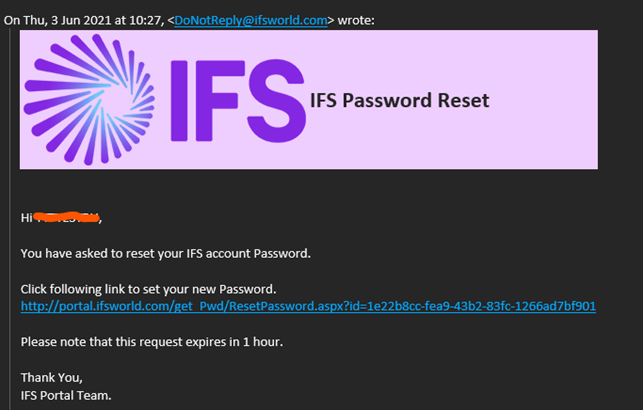 Consider following rules when changing the password
Password must be minimum of 12 characters long (can be longer) and must contain three of these 4 characters
Upper case letters (A-Z)

Lower case letters (a-z)

Numbers (0-9)

Punctuation characters (!,@,#,etc.)
We encourage you to use a passphrase instead of a password. A passphrase is not only more secure than a dictionary word based password, but is also easy to remember.
Example: "TrafficOnThe101Was#ThisMorning"
Previously used passwords cannot be reused

Password must be complex and should not contain username or common names like 'manager', 'winter'
After resetting the password successfully, you will receive an e-mail like the one below.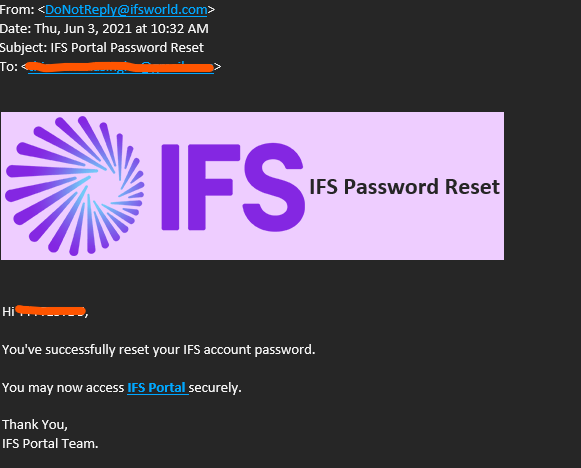 Accessing the following resources will not be possible with an expired password
IFS portal
citrix.ifs.com site
CEC or LCS
Other resources hosted at IFS which are being accessed using customer accounts.
Unable