I'm currently working on a case that a particular user is unable to log on to WaDaCo via a Windows handheld scanner and he is getting an error says that "Username and/or Password Wrong". This customer is on IFS APP10 UPD9 and this user is able to access WaDaCo process through IEE client by using same Username/Password.
As per the customer, different users can also access to WaDaCo through that device. They have set SSO and ADFS authentication for logon hence, they are trying to access with the domain (USER@DOMAIN.COM).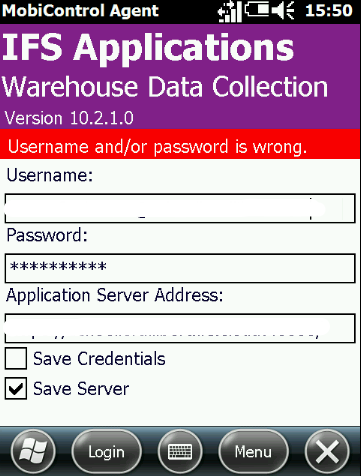 Have you ever experienced such issue before? I really appreciate it if someone can provide me the inside and how that could happen?
Best answer by Harsha 15 April 2021, 07:07
Hi All,
This issue was reviewed by @Togar Siahaan and he did suspect that the user is possibly:
Having different SG membership at local ADFS
Different User Principle Name at local ADFS
Insufficient privilege to access the Apps
We have asked the customer to verify this particular user at their on premise ADFS. They have been asked to verify if that user is the member of the correct Security Group at local ADFS as well.
(To verify this, you can: Use AD Sync Form, connect to their local ADFS. Then at the table window of registering the Permission Set Mapping, do the browsing to their AD structure. Check if that user really exist under that SG mentioned above.)
Customer's infrastructure team has confirmed that Groups, OU and User principal name are ok for IFS. But the only thing they have noticed that in the past somebody has filled in a list of server that the user is allowed to log on to. Then, they have removed the computers and checked the box "The user can log on to all computers".
Finally the customer has confirmed that issue had resolved after making above changes.
Thank you all for offering your valuable feedbacks regarding this issue.
Best Regards,
Harsha
View original