We have multiple sites reporting this issue today after 12am - has anyone else seen this and know what might be causing it/how to fix it? (see attached)
Error message will now allow user to save in Production Schedule by Line with information message pop-up: "The field [Schedule Firm?] has a value that is not in the list of approved values"
We have not had any system changes in the last 12 hours that would cause this, that we are aware of.
Best answer by Joy 13 November 2019, 19:49
IFS support looked into this today for us - and I thought I would share the result, because we were not expecting this area to behave this way. 
We are using IFS v9
The problem was that a user, while in the "Production Schedule by Line" screen:
In the body of the window: RMB > Conditional Fields...
Then in the Conditional Field Actions window navigator, found and expanded: "Schedule Firm? (Line Sched Status).
Then, selected "Value Set" and they "Enabled Action" (see images below).
Although there are no additional values in the "selected values" other than what we use - and interesting that this "conditional formatting" affected ALL USERS - not just the one who set this action… this is what was causing the error. 
Upon "disabling" this Value Set Conditional Field - it changed the conditional formatting for ALL users (we verified) and the error ceased. 
All users have varying base profiles… 
IFS is researching whether this is a bug, as conditional formatting should be user specific, and also how to find who/when the action was enabled for future troubleshooting. We are waiting for their response.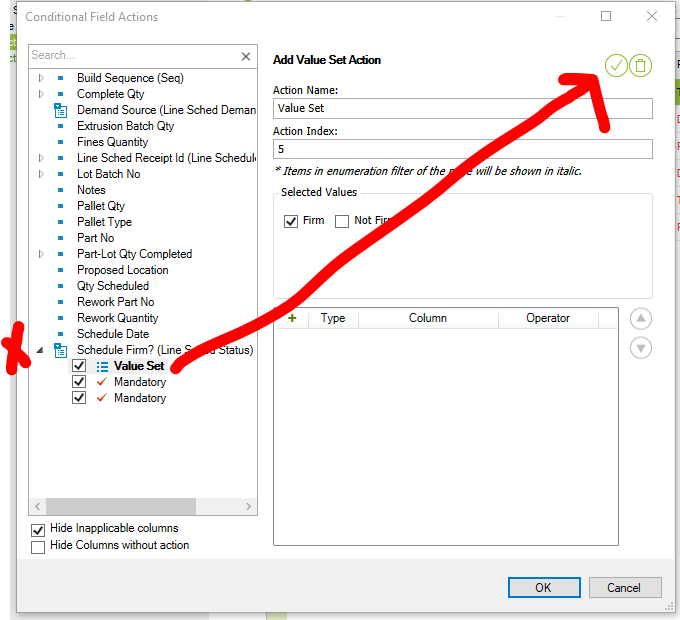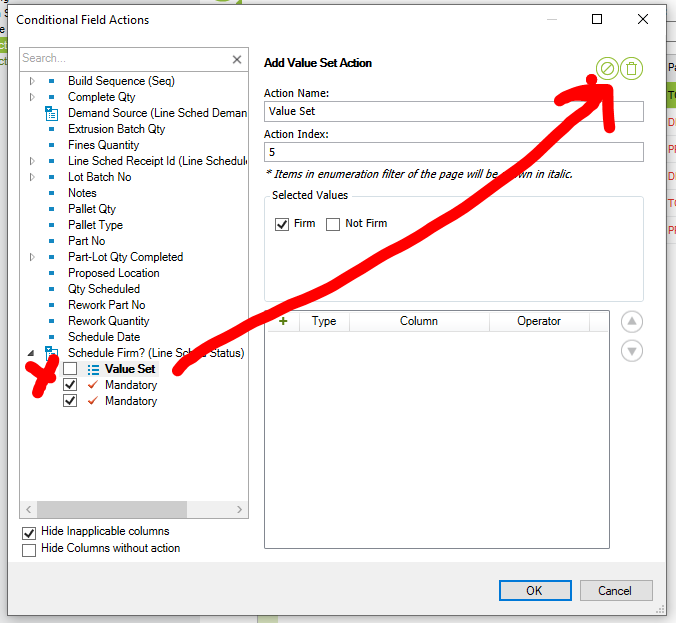 View original